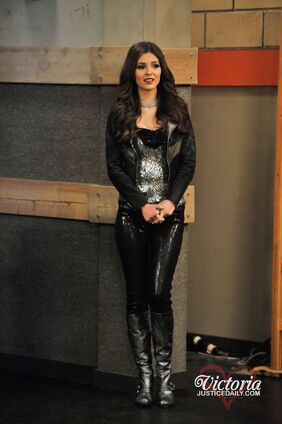 Age: 16
Date of Birth: May 31, 1997
Hair Color: Dark Brown
Eye Color: Light Brown
Family:
Father(deceased)
Mother
Older sister(deceased)
Darcee Vega(cousin)
Occupation:
Love Interest: Tyler Moon

Actress: Victoria Justice
Aria is a cheerful, kind young girl but she has a troubled life. Her father and older sister(15) died when she was
14 in a car accident, and she lives with her mother. She is one of Natalie's friends and singing partner. She is pleasant, positive, kind, funny, sweet, intelligent, serious, forgiving, mature, and responsible. She is a hard working girl that likes to help others but later on, her friends start to become more worried and protecting towards her when she begins talking about that she keeps seeing her father and older sister.
Ad blocker interference detected!
Wikia is a free-to-use site that makes money from advertising. We have a modified experience for viewers using ad blockers

Wikia is not accessible if you've made further modifications. Remove the custom ad blocker rule(s) and the page will load as expected.